Watch: Florida man fends of trespassing alligator with garbage bin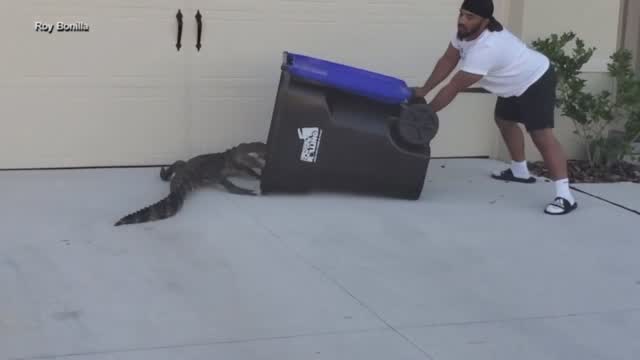 PROVIDENCE, R.I. (WLNE)- A Florida man was captured on video using a trash can to fend off an alligator that was invading his property.
Eugene Bozzi's children were playing outside of his home on Tuesday when they heard a hissing noise coming from the bushes in the neighbor's yard.
Bozzi, an U.S. Army veteran, knew he had to protect his kids as the alligator emerged.
"Let me get the trash can run up over this go," he said.
Bozzi was able to contain the gator in the garbage bin, all while wearing flip flops.
"I was gonna put my shoes on, I had flip flops on everybody was making fun of me," he said.
Bozzi isn't the stereotypical "Florida man," having moved to the Sunshine State just over a year ago from Philadelphia.