Periods of light snow and snow showers overnight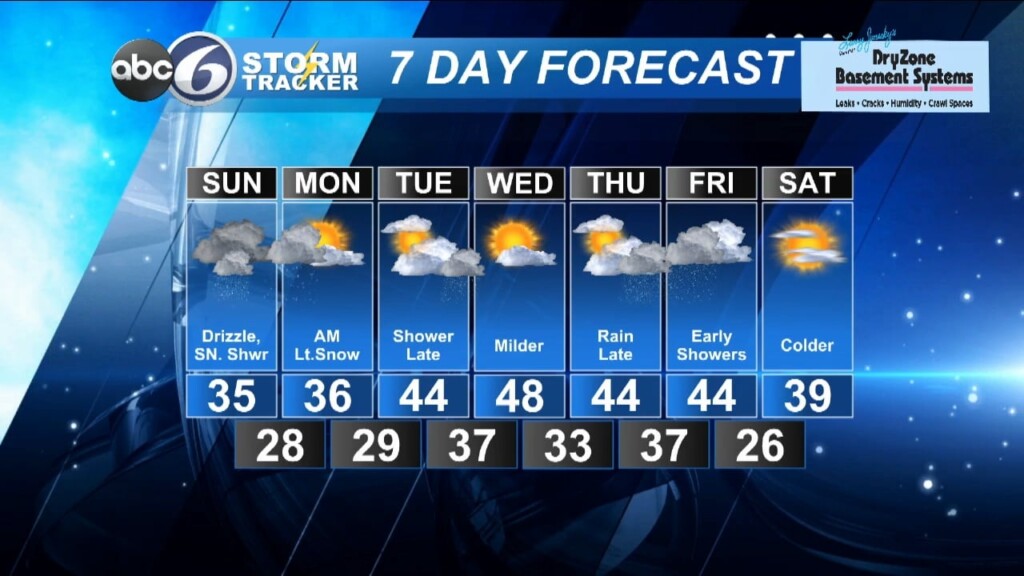 We had some very gusty winds to deal with today as some wind gusts reached 40-45MPH, but those winds will slowly be easing overnight. Meanwhile another wave of Low pressure off the mid-Atlantic coast will pass well east of Cape Cod on Monday, but as it goes by it will be sending more bouts of light snow, snow showers or just flurries from time to time as lows tonight drop back into the upper 20s. So any snow that falls on untreated roads can become slippery. Snow amounts throughout all of RI will basically be a grassy coating, but some areas of easternmost RI could potentially get up to an inch on grassy surfaces. Moving further to the east into Bristol county of MA snow totals could reach an inch or 2 while in Plymouth county amounts look to be on the order of 2-4 inches, but again most of this will on grassy surfaces while the roads may only have slippery spots or slushy coatings on them.
One final wave of mostly light snow looks to move through RI for the late morning and early afternoon tomorrow, but by then temperatures will be climbing back above freezing so what falls on the reads should be melting right away. This will all be clearing out of here for late Monday afternoon and a warming trend will begin Tuesday. However, that warming trend will be ushered in Tuesday night by a weak weather system approaching from the west which means a few rain showers will traverse the area overnight. The next threat of wet weather arrives later Thursday with more rain as this that storm center will pass to our north & west, keeping us on the mild side. Once it goes by we will dry out and return to normal temperatures for the weekend.
TONIGHT: cloudy with passing light snow showers/flurries or period of light snow as winds slowly relax. Lows in the upper 20s.
MONDAY: some additional light snow or snow showers re-developing late morning and early afternoon then clearing late. Highs in the mid 30s.
TUESDAY: sunshine for the first half of the day with increasing PM clouds and rain showers developing into the evening. Highs low 40s.
WEDNESDAY: sunshine mixed with clouds. Highs upper 40s to near 50°!
ABC6 Meteorologist Bill Gile