Waterfire gets big federal grant; needs more renovation money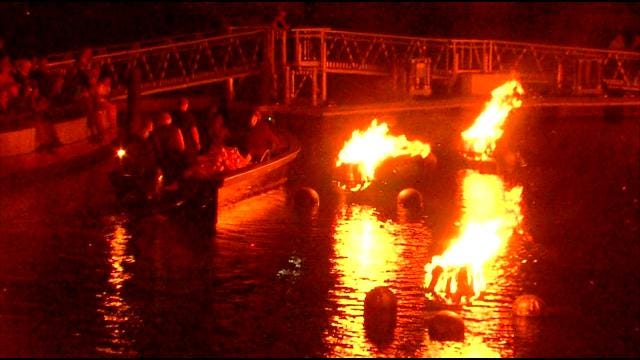 by ABC6 News Reporter Mark Curtis
There was plenty of reason to celebrate with some of the cast from Waterfire.
The signature Providence event received a $600,000 dollar federal grant, so it can move into and rehab an empty building on Valley Street.
Waterfire founder Barnaby Evans said, "We have a tremendous amount of support equipment that makes all of that possible. Boats and trucks and staff and stages. And this is a place where it can all be in one place."
Other portions of the building will be lease out to local artists, to create their works.
ABC6 News Reporter Mark Curtis said, "This booming 35 thousand square foot building will just house all the boats an equipment for Waterfire; this will be its headquarters."
But the grant is for a so–called brownfield site, so there will have to be an environmental cleanup here first.
The Mayor says the whole project will create jobs.
"Well, one is the remediation efforts will be something that will help create jobs. Any construction that goes on here as well. So that's positive," said Mayor Angel Taveras, (D) Providence.
Also receiving a $200,000 dollar federal grant, the West Broadway Neighborhood Association.
It wants to clean–up and sell and old gas station at Westminster and Dexter Streets.
"For start ups, for new businesses, for creative ideas. Somebody that wants to lease or buy the building from us and reuse it as something great for our neighborhood," said Kari Lang of the WBNA.
All told, Providence gets $800,000 dollars in federal grants, that could keep some iconic projects afloat.
Waterfire still needs $5 million dollars to renovate its new headquarters at 475 Valley Street.
Anyone interested in donating should go to www.Waterfire.org.