Weather Making a Mess of New England Air Travel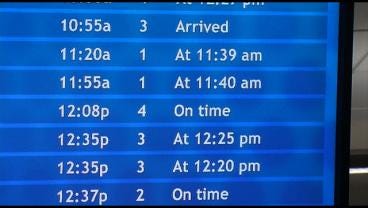 by Mark Curtis, ABC6 Chief Political Reporter
Flights were landing at T.F. Green airport in Warwick, and others were getting ready to depart, though not necessarily on time.
Passengers took it in stride. In fact by early afternoon, forty percent of flights were delayed or canceled
Ann Prince, an arriving passenger from Baltimore said, "It was a little delayed because there was snow in Baltimore. We came from DC, and the plane had to be de-iced."
Sekhar Mogallapalli, an arriving passenger from Milwaukee said, "We had a bumpy flight. It was a very bumpy flight."
People waited patiently at baggage claim and while some passengers made it here, some of their luggage did not make the tight connections caused by bad weather elsewhere.
ABC6 Chief Political Reporter Mark Curtis said, "The skies started the day partly-sunny, but we knew that would change. Still, whether people were departing or arriving, or whether or not their flights were on time, everyone still seemed in a happy, holiday mood."
David Mullen, his wife and four kids were on–time to depart for Chicago, getting out of New England before the wrath of Mother Nature.
Mullen, a passenger departing for Chicago said, "Well that's good. We didn't even realize that. Glad we're escaping it. We'll probably cross it in the skies."
Others trying to get out weren't so lucky, and were concerned.
Autumn Zace, a passenger trying to get to South Carolina said, "We are flying to Newark and from Newark to Charlotte. We've already found out our first flight is delayed. We're supposed to leave at almost 1:00; we are leaving at 2:30."
Karen Bissette, a passenger bound for Chicago said she was slightly concerned, "A little bit. Right now the flights on time, but we'll see".
Late or not, a lot of people we're just happy to be with loved ones, once again.
Passengers wanting to check the departure and arrival times at T.F. Green Airport in Warwick, Rhode Island can go to www.pvdairport.com.
.