Wednesday weather to follow Tuesday's lead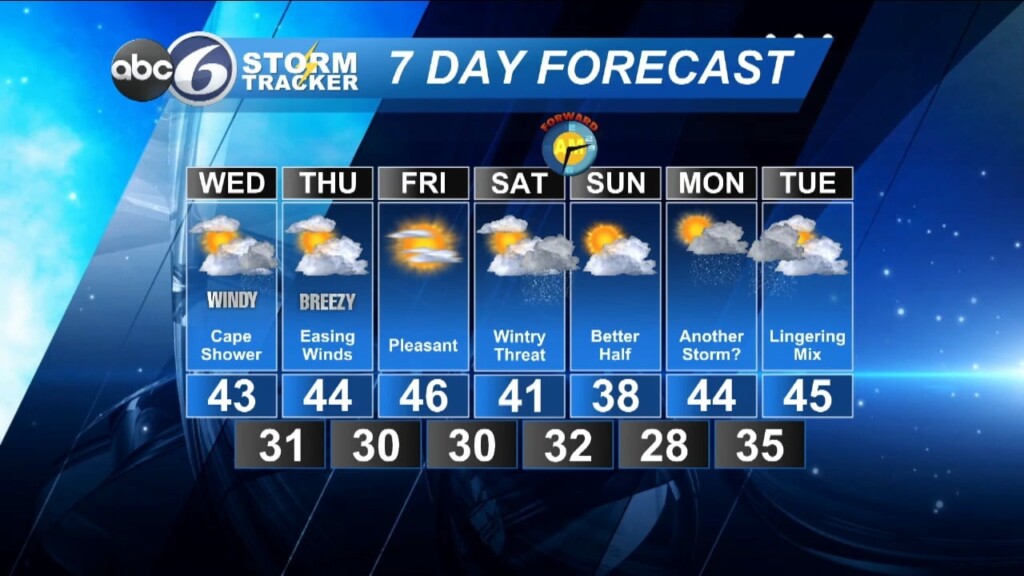 Tuesday started with sun, ended with clouds – and even a few snow showers – all while the brisk north winds remained.
Expect a similar outcome for Wednesday. Dress warmly heading out the door as temperatures will start off in the upper 20s, feeling even colder than that.
Afternoon temperatures will top out in the low 40s to around 45 degrees, but feeling more like the 30s.
Most folks will remain dry on Wednesday as the clouds move in, but there will be a few exceptions especially towards the Cape and points east.
A stubborn closed-off low pressure center over the Canadian Maritimes will spin in another round of light showers.
That moves out slowly into Thursday, with winds lightening up as a result. High pressure firmly builds in on Friday for a pleasant end to the work week.
Saturday remains a big question mark here in the forecast center. A fairly potent storm will set it's sights on the eastern seaboard, and with the timing of the storm moving in Friday night, the possibility of snow at the onset is looking more likely. The uncertainty lies more on the positioning of the storm, with some computer models pushing the system further to the south. In either case, expect Sunday to be the drier weekend day.
STAY WITH ABC6 FOR THE LATEST FORECAST
WEDNESDAY: Partial sunshine, remaining blustery. Highs in the low to mid 40s.
THURSDAY: Sun & clouds, winds easing. Highs mid 40s.
FRIDAY: Mostly sunny, clouds increasing late. Highs in the upper 40s.
SATURDAY: Watching a storm. Models remain in poor agreement on how this next round of wintry weather will play out. Likeliest scenario is some degree of snow developing Friday night into early Saturday morning, with mixing possible into the day on Saturday. Prepare for slick to slipper conditions.
SUNDAY: Clouds breaking for some sunshine. Chilly with highs in the upper 30s.