West Nile found in Fall River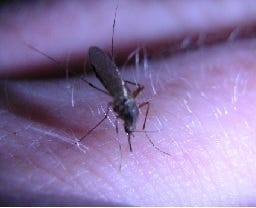 Olivia Cianci
Mosquitoes tested near St. Patrick's Cemetery in Fall River have tested positive
for West Nile Virus.
Weather permitting; mosquitoes will be sprayed for on
Thursday July 25th at 2:00 am until 5:00 am in St. Patrick's Cemetery,
Oak Grove Cemetery,
and surrounding areas. Residents are advised to keep their windows closed Wednesday
night.
There are many precautions that can be taken in order to
avoid West Nile and all other mosquito-transmitted
diseases. Precautions include being aware of mosquito peak hours (dusk to
dawn), wearing repellant and long sleeve clothes at night, and draining all
still water from around your home.
For more information regarding mosquitoes, repellants, and
virus's, visit http://www.mas.gov/dph/wnv.