West Nile sighted in Rhode Island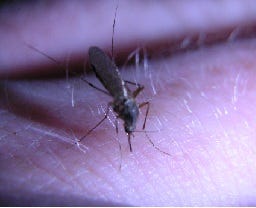 Olivia Cianci
news@abc6.com
The first sighting of West Nile Virus has been found in Rhode Island.
The Virus was located within a pool of 28 mosquitoes taken
from the Smith Hill area in Providence.
The species of mosquito is the type to bite both birds and humans.
Mosquitoes are tested every week, and West Nile has also
been found among mosquitoes in both Massachusetts
and Connecticut
as well.
West Nile becomes more prevalent
in the late summer and early fall, and Rhode Islanders are advised to be more
cautious against the pests. Wearing long sleeves and pants at night, using bug
spray, and removing any still water are all useful ways to avoid any unwanted bites.
Eastern Equine Encephalitis (EEE) has yet to be sighted in Rhode Island, but infected mosquitoes have been found Connecticut and Massachusetts.