Westerly lacrosse field vandalized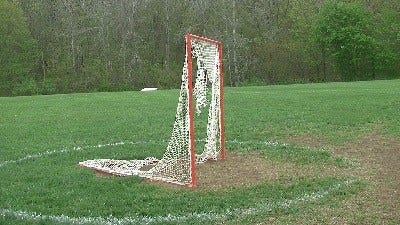 Nicole Gerber
@nicolegerber
ngerber@abc6.com
WESTERLY – Coaches in the Westerly lacrosse program woke up to slashed nets and deep holes on the field at Bradford Preserve. It's vandalism, the likes of which they never expected.
"The destruction of the nets clearly was done so that we can't use them, we can't repair them," said Adam Kaufman, President of the Westerly Youth Lacrosse program. "So we've got 6 or 7 hundred dollars worth of damage, but clearly this is an act of vandalism to send a message to us, that somebody doesn't want us here."
There has been controversy surrounding the field in the past.
Many living in the surrounding neighborhood opposed the project in town meetings and petitions. But members of the lacrosse program say they've jumped through hoops to keep the neighborhood happy.
"The neighbors had some concerns about bull horns, we agreed not to use them, we agreed not to play on Sundays so they could have family time, we haven't had any jamborees or anything," said Patti Palmer, who has two kids in the program, and a husband who is a coach.
Westerly police are investigating. In the meantime the program is scheduled to continue as normal, though everyone involved is still shaken up.
"For the kids to see this, it's really a shame for the kids to have to experience this," said Bruce Brawley, Head Coach of the Westerly High School boys lacrosse team.
"This is hurting the high school athletic team, there are some boys who are potentially going to win some scholarships, I mean this isn't just we don't want little kids playing here, this is a little more," said Palmer.
There have already been a number of donations made to get all of this cleaned up and taken care of – everything from money to brand new nets. Hopefully the kids will be out playing again as soon as tonight, weather permitting.

(c) WLNE-TV 2014