Westerly prepares for impending storms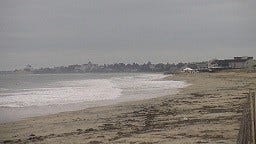 By Kirsten Glavin
kglavin@abc6.com
@kirstenglavin
WESTERLY – Residents in Westerly are likely to feel the effects of Hurricane Joaquin as it moves up the East Coast. With long stretches of beach, the town faces threats of ocean water damage as the strong winds blow over.
"We're definitely nervous being right next to the water," said Raymond Allen, a beach snack bar worker.
Businesses have been taking action ahead of time. One beach snack shack moved their entire trailer to a new location. They told ABC6 that they're nervous, but they've seen this type of weather before.
"After sandy there was like five feet of sand in the road and just flat all the way down," Allen said.
The town manager, Amy Grybowki, encouraged everyone to prepare at least 72 hours in advance. "We are recommending people to pull their boats out of the water, to take in any lawn furniture as well as outside decorations, as well as any low hanging limbs that are dangling," she said.
Governor Gina Raimondo is also not taking any chances. She continues to warn the state to take caution, as impending storms move through the area for the next several days.
"We'll be ready if there's a hurricane, we had a practice session about a month ago. Right now it's just tracking, being prepared, and getting out in front of it," the Governor said.