Stonington- Westerly Rivalry is One of the Oldest in the Country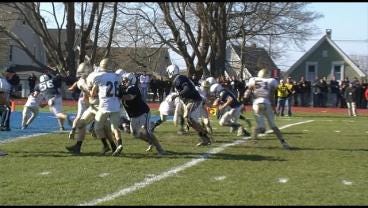 By: Melissa Toupin
What's Thanksgiving with out a little football. High schools across Southern New England facing off against their rivals.
One of the oldest rivalries in the country plays out each year here in Rhode Island.
Westerly High School football players took the field with something to prove. The Bulldogs down in the standings more than a century in the works. The two teams met for the first time in 1911.
The annual Thanksgiving match up between Westerly and Stonington is touted as one of the countries oldest rivalries. The tradition running deep through generations of players.
"This whole section that you're in right now is probably 80-90% men here that have played in this game," said John Broccolo, Westerly Class of 1978.
The two towns which lie in separate states (Stonington High School is in Connecticut) are separated by less than 3 miles and a river. During Thursday morning's game you could see and hear the home town pride everywhere.
But rivalries aside, the meeting of the teams was also significant as it marked the first major community event in Westerly since Hurricane Sandy slammed the towns coastline.
Life long Westerly resident Angelo "Chick" Cozzolino sported a 'Misquamicut Beach Recovery' tee-shirt at the game.
"It's getting cleaned up. It's going to take time," said Cozzolino.
For some players it will be their last game.
"It means so much to them, a senior home game," said Dawn Bucmarch who's son plays for Westerly.
This year didn't go in the Bulldog's favor. Still fans say there is always next year.