Westport firefighters rescue family dog from house fire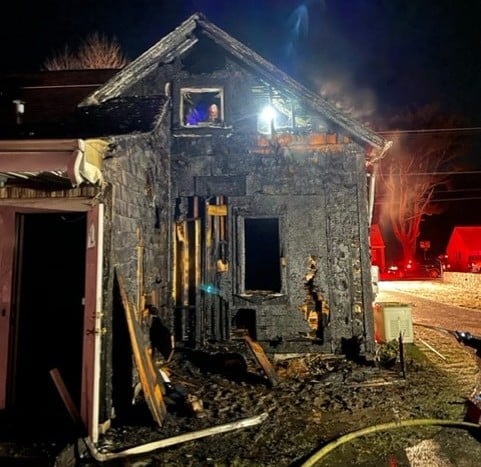 WESTPORT, Mass. (WLNE)- Westport firefighters battled a house fire early Sunday morning.
According to Deputy Chief Dan Baldwin, the Fire Department responded to a two-story home on Sanford Road home around 1:30 a.m.
Firefighters on scene found the home surrounded by heavy smoke and fire coming from the back of the house on the first and second floors. Everyone was out of the house except for the family's Golden Retriever.
Deputy Chief Baldwin said two firefighters knocked down a bulk of the fire from the outside, before gaining access to the homes second floor, where they found the "semi-conscious" dog.
The dog was carried outside and given oxygen from Westport police officers.
"Within minutes the dog became more alert and was soon able to stand on all fours," Baldwin said.
The dog was taken to the vet for precaution and is expected to make a full recovery.
No other injuries were reported.
On and off-duty firefighters from Westport responded to the house fire, as well as mutual aid from Tiverton, Little Compton, and Dartmouth.
Fire officials said they believe a heat lamp being used to prevent pipes from freezing may have been the cause of the fire.
Baldwin noted this is the second house fire the Westport Fire Department has responded to over the past week.
A homeowner was alerted to the fire by a smoke detector in the basement, before they smelled the smoke and saw the flames.
"We remind all residents that working smoke detectors save lives," Baldwin said. "Test your detectors regularly and replace the batteries often."