Westport road closed, destroyed by Sandy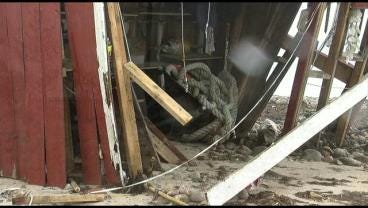 Andrea Medeiros
East Beach Road in Westport was still being fixed from Tropical Storm Irene, when it was destroyed again this week.
The town is now looking at every option to avoid this mess in the future, including seizing private property. It's a familiar sight in Westport, East Beach Road is shut down. This time, Sandy's storm surge dropped giant boulders and shredded the pavement, opening up old wounds for the people who live here.
"Something has to be done about it," said property owner Jack DeVeuve, "It's just an ongoing problem that the state needs to help the town fix."
With every storm the ocean creeps closer to East Beach Road, destroying it more.
Walking over the rubble left on the road, Selectman Richard Spirlet said something has to change. Repairs weren't even finished after Irene.
"This is only 13 months since the last storm and look at the damage it's done," said Spirlet, "120-thousand out of our budget, what's another quarter of a million dollars and we got nothing. It's crazy."
The town is now looking into getting a barrier or moving the road away from the ocean, taking private property like Jack DeVeuve's.
"We bought it, so that it was an inexpensive way of having a place for our kids to come to the beach in the future," he said.
East Beach Road is closed for the next week.