Westport soldier dies in Fort Bragg, cause of death unknown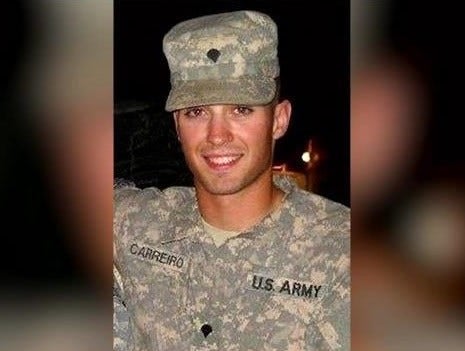 By Bianca Buono and Samantha Fenlon
Flags will be flown at half-staff in Massachusetts on Monday in honor of Westport native Sergeant Luke Joseph Edward Carreiro, who died at Fort Bragg in North Carolina.
Sergeant Carreiro passed away on December 2nd and at this time, his death remains a mystery.
"No parent should have to bury a child. No daughter should grow up without a dad," said Marie Carreiro, Luke Carreiro's mother. "It's a huge loss for everybody. It's a huge loss for this world. He was an amazing soldier, son, father, husband and brother."
Sergeant Carreiro was working at the military base as a mental health specialist, having previously served a tour in Iraq.
The military is not yet releasing a cause of death, but say their criminal investigation command is looking into the incident.
"He was just a very very good kind hearted, nice person. Just filled with so much love and happiness," said Michelle Carreiro, Luke Carreiro's wife.
The Iraqi vet leaves behind a 5-year-old daughter. His mother and wife telling ABC 6 News they want her to grow up knowing what kind of person he was.
"He was just genuine and calm. He really just cared and wanted to help. He knew what to say he knew how to help," said Marie Carreiro.
Sergeant Carreiro enlisted in the army after graduating from Westport High School. Longtime friends tell us they are overwhelmed with this sudden loss.
"I felt like someone just punched me in the stomach. I had trouble breathing really," said Jennifer Farias, Carreiro's High School classmate. "I've known Luke since the sixth grade when he moved to Westport. We were friends then and we've remained friends."
According to his obituary, he was born in Fall River and graduated Westport High School in 2007. He played soccer and was a member of the National Honors Society. He enjoyed reading, riding his motorcycle with his dad and playing pool with his military buddies. It also said that Carreiro always had time to lend a hand no matter what the circumstances to help others.
He leaves behind his wife Michelle, daughter, sister, brother, and parents.
© WLNE-TV 2015