"Where others failed to act, we did": Current employer fires former North Kingstown coach, who is under investigation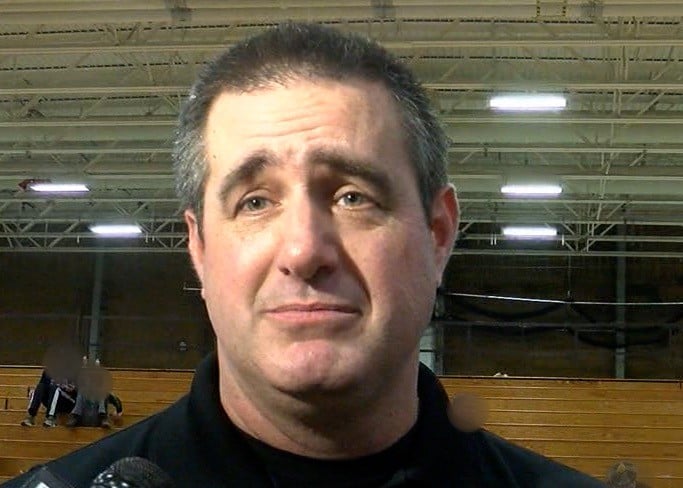 Wakefield, RI (WLNE) – The principal of Monsignor Clarke confirmed to ABC6 that the school terminated middle school teacher Aaron Thomas.
Thomas had begun working for Monsignor Clarke this school year. Prior to this school year, Thomas had taught and coached basketball at North Kingstown High School.
The termination from Monsignor Clarke comes after the school learned that Thomas is under investigation for allegations that arose during his time at North Kingstown High. The Rhode Island Attorney General's Office confirmed to ABC6 that there is an investigation, but a spokesperson said they could not give further details. ABC6 has learned the investigation involves the manner in which "fat checks" were conducted on student athletes.
Timeline of the investigation:
The North Kingstown School Department confirmed that, earlier this year, they placed Thomas on administrative leave after the department received "an allegation regarding his job performance". The school department said it turned the matter over to the North Kingstown Police Department. The school committee had voted to terminate Thomas at the end of the school year, which they said was the soonest allowed by law. However, the school department said Thomas resigned in June.
Thomas went on to be hired by Monsignor Clarke as a teacher for this school year. In a statement released Friday, the Principal of Monsignor Clarke, Dr. Arthur Lisi, explained the hiring process.  He said Thomas passed national and state background checks. Dr. Lisi also said Thomas passed all reference checks.  Dr. Lisi wrote, "I personally reached out to and spoke to the North Kingstown High School Principal, his supervisor at his last job, to make sure Mr. Thomas was the right person for our middle school. The principal had the opportunity to warn us and instead withheld all negative information." Principal Lisi said the school placed Thomas on administrative leave upon learning about the investigation.  Thomas was terminated on Friday.
Here is the statement from Dr. Lisi:
November 5, 2021

Dear Monsignor Clarke Community:

As a follow up to my earlier communications, I want to let you know that Mr. Thomas was terminated today. We currently have a full-time substitute teacher in the classroom and are working to find a certified social studies teacher.

This has been a very difficult week for many in our closely-knit community. We have processed a series of emotions, including frustration knowing that during the hiring process we contacted North Kingstown High School which withheld from us the allegations, investigation, suspension, and planned termination of Mr. Thomas. Naturally, many of you have read recent news coverage and have questions or concerns that I want to answer for you.

How was Mr. Thomas hired? As we do for all teacher applicants, Mr. Thomas was subjected to thorough national and state criminal background checks, which revealed no disqualifying information. We also check professional references. Mr. Thomas represented to us that he had retired from North Kingstown after 30 years of service. I personally reached out to and spoke to the North Kingstown High School Principal, his supervisor at his last job, to make sure Mr. Thomas was the right person for our middle school. The principal had the opportunity to warn us and instead withheld all negative information.

When did we find out and what did we do about it? Two weeks ago, the school and the diocese received anonymous and vague calls telling us to "look into Aaron Thomas"—but giving no specific allegations and leaving no name or contact information before hanging up. We reported these messages to the diocesan Office of Compliance—established in 1993 to investigate reports of abuse and provide training on prevention and reporting of abuse. The compliance office had also received an anonymous voicemail. The current director, Kevin O'Brien, is a 23-year veteran of the Rhode Island State Police and former Major and Detective Commander. In his investigation, he was able to track down one of these anonymous callers, contacted him, and took his complaint. Mr. O'Brien then reached out to the North Kingstown Police Department to confirm the complainant's story and for information they could release to us on their investigation of Mr. Thomas. Pursuant to an Access to Public Records Act request, a week later, they declined to release any information citing privacy concerns. As the facts and their credibility were being collected and assessed, a media inquiry was received about Mr. Thomas. It was the first instance we learned about the full scope and nature of the allegations. The Attorney General's office then notified Mr. O'Brien that they were reopening their investigation into Mr. Thomas and within hours we suspended him and escorted him from the property.

While the specifics of all these quickly developing events can be debated endlessly, what I want to emphasize is that we followed up aggressively and promptly to everything we received and acted prudently and responsibly. Where others failed to act, we did. Mr. Thomas was employed in North Kingstown Schools for approximately 30 years. He was here for approximately 30 days.

What hasn't changed, and remains our first and highest priority, is the safety of our students and our cooperative partnership with parents. Every day, our teachers are doing extraordinary things in our classrooms and your children bring enthusiasm and intellectual curiosity to our school. Together, we will continue that good work.

Sincerely,

Dr. Lisi
Principal
ABC6 reached out to the North Kingstown School Department for a statement in response.  This is the statement released by the school department earlier this week:
"Mr. Thomas was a teacher and a coach in the North Kingstown School Department until he resigned in June 2021. Prior to his resignation the school department received an allegation regarding his job performance.
Upon receiving the information, the district immediately placed Mr. Thomas on an administrative leave, and subsequently the School Committee voted to terminate him at the conclusion of the academic year (the earliest opportunity per RI Law). The matter was turned over to the North Kingstown Police Department who conducted an investigation while the district began its own investigation. The district also notified the Rhode Island Department of Education.
Mr. Thomas resigned from the North Kingstown School Department on June 24, 2021, prior to the end of the NKSD investigation, ending any further action by the North Kingstown School Department.
The North Kingstown School Department has no other information it can legally share on this matter."
Previous coverage: https://www.abc6.com/former-north-kingstown-high-school-coach-under-investigation/