Where Will Powerball Winner Spend The Millions?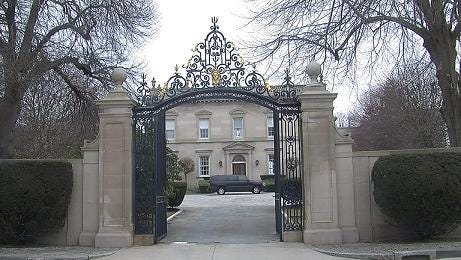 The Powerball winner of the 336 million dollars is still a mystery. We know the ticket was sold at Stop & Shop Supermarket in Newport. But, we were wondering where the winner might be spending his or her millions.
Mansions, yachts, and luxury cars are usually bragged about in rap songs, but now that there's a new millionaire in town, it's all anyone's talking about. High-end brokers in Newport hope the winner picks them for his or her first big purchase.
The owner of "Clarendon Court" on Bellevue Avenue hopes the winner scoops up his mansion that's on the market.
Glenn Randall and his realtor just showed the house to a famous fashion designer, but say they're keeping the powerball winner on the back burner.
"We were wondering what his pattern was in terms of what he had in mind," laughed Randall.
Realtor Paul Leys tells ABC6 he just showed the house to a prospective buyer, but he says the powerball winner wouldn't be a bad client either.
Leys said, "Well if this person this morning doesn't like it I sure hope the lottery winner is going to like this property and I hope he or she calls me for a showing."
If the winner isn't interested in the 15.8 million dollar estate, maybe a yacht is in their near future. Some of Newport's priciest yachts are sold at Marinemax.
Manager Frank Brennan told us he hasn't heard from the winner yet, he's holding his breath.
Brennan said, "With that kind of money they should be in the market for a yacht, unfortunately we haven't heard from him or her yet."
You cant have a mansion and a yacht without some new wheels. The salesmen over at BMW of Newport are hoping to see the winner walk through their showroom.
Longtime car salesman Milton Rogers says, "we have a few salesmen who think that he has come through already and looked at a few cars but we haven't visually seen him yet though."
It looks like no big purchases yet, people in Newport are still trying to figure out who the winner is.
Edgar Rosales, Manager of Majestic Cruises in Newport, says he has plenty of ideas as to who the winner might be.
Rosales said, "I'm up to nine rumors now but the one I'm leaning more towards is the 19-year-old male."
The winner, whoever it is, still hasn't claimed their winnings. They have a year to do so.