Whipping winds throw trash cans, debris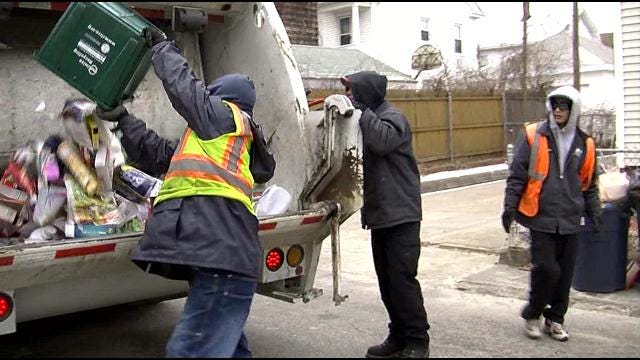 By: Alexandra Cowley
It was not a good day for trash pick up. The fierce winds knocking over bins, sending debris flying. In one Rhode Island city, trash cans littered the streets, forcing cars to swerve. It was so bad, the mayor was concerned about safety.
While most of Southern New England dodged the snow part of this storm, we were hit hard with the wind. Parts of Rhode Island saw gusts up to 50 miles an hour. When you mix that with trash day, you end up with quite a mess.
Mayor James Diossa says his phone has been ringing off the hook with people complaining about the mess.
Mayor Diossa said, "it is a concern because the trash is blowing all over the place, you have bins in the middle of the road, that's something were addressing as we speak now."
The mayor reached out to DPW and used social media to ask residents to help out by putting away the bins and picking up the trash.
"Please secure them, put them in the shed, in the basements, put them in your backyard where they're not going to fly all over the place, because it is dangerous," he said.
The wind made trash pick-up an even rougher job than usual.
Josh Dooley of Mega Disposal says, "We do the best we can with what we have to work with. I mean if we see a street we'll stop and pick up everything we can. But as far as it blowing around, the wind there's nothing we can do about that."
Wind doesn't usually cancel trash pick up, but after dealing with the mess, the mayor may consider it next time.
"I think that's a decision to be made once we encounter another windstorm like this," Diossa said.
(C) WLNE-TV 2014