Willman Scores Two Goals In Brown Hockey Loss To UNH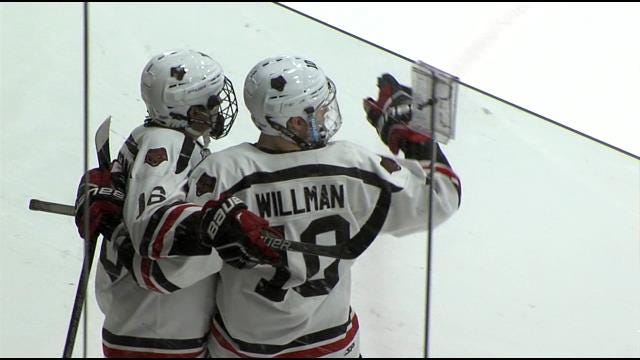 Brown University Press Release
PROVIDENCE, R.I. – The Brown men's hockey team mounted a late comeback with three goals in the third period, but it was not enough to erase an early deficit, as the Bears fell to New Hampshire, 7-4, in Sunday's non-conference game at Meehan Auditorium.
New Hampshire improves to 10-8-2 overall, while Brown drops to 3-11-1 after the final non-conference game of the season for both teams.
Brown's top line racked up 10 points, led by Sam Lafferty (Hollidaysburg, Pa.) with one goal and three assists for four points, while Max Willman (Barnstable, Mass.) recorded two goals and one assist. Charlie Corcoran (New Canaan, Conn.) rounded out the line with one goal and two helpers.
Tyler Kelleher paced the Wildcats with five assists, while linemates Jason Salvaggio and Michael McNicholas added two goals apiece. Danny Tirone stopped 22 shots in the win for the Wildcats.
Gavin Nieto (Yorba Linda, Calif.) recorded six saves in the first period, before giving way to Connor Maher (Marshfield, Mass.), who made five stops in the loss. Tim Ernst (Pickering, Ontario) made nine saves in the third period.
After 17 minutes of scoreless action, New Hampshire scored a pair of late goals within a six-second span for the two-goal lead at the first intermission. McNicholas scored early in the team's first power play of the game, before Salvaggio benefited from a turnover in the Brown end and then beat Nieto to make it 2-0, Wildcats.
New Hampshire edged Brown in shots, 8-7, in the first 20 minutes.
Brendan van Riemsdyk scored 53 seconds into the second period to give UNH the three-goal advantage, but Brown answered back at 7:37, when Willman scored his sixth goal of the season. After Lafferty took a shot from the left circle, Willman cleaned up on the rebound from the right circle, trimming the lead to 3-1.
However, New Hampshire responded with three power-play goals over the second half of the middle frame, stretching the lead to 6-1 heading into the third period. Brown outshot UNH, 10-9, in the second period.
After Jamie Hill scored for UNH at 4:09 in the third period, the Bears notched three straight goals in the second half of the frame, starting at 11:20 when Corcoran blasted a shot from the slot for his team-high 12th tally of the season.
Lafferty and Willman added back-to-back goals in the final three minutes of the contest to pull the home side within three at the end of regulation.
The two teams were even in shots, 27-27.
Brown returns to ECAC play next weekend when the Bears host St. Lawrence (1/13) and Clarkson (1/14).