Wind Turbine Battle Erupts Again in Fairhaven, MA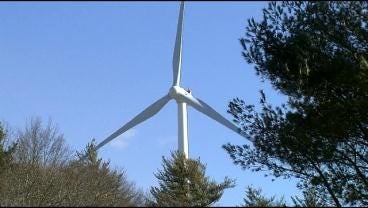 by ABC6 Investigative Reporter Mark Curtis
Underneath the giant wind turbines in Fairhaven the whirring sound is unmistakable.
And even in the closest neighborhood, just over one thousand feet away, you can still hear it.
Residents say it's taking a toll.
Leah Isherwood, who lives near the wind turbines said, "It's awful, I can just hear the noise, all the time."
Peter Goben also lives in the nearby neighborhood and said, "It' sounds like a jet engine hovering over your house."
Chelsea Isherwood said, "I get a lot more headaches now and I think that is from lack of sleep."
While many want the wind turbines gone, others support the project hoping it will save the town money.
Fairhaven resident Robert Mayo, who supports the wind turbines, said "When they get it straightened out, with who is buying what, and with electric, it might be less money for us in taxes."
Fairhaven Wind partner Sumul Shah said, "Taking advantage of wind allows us a very affordable way of providing clean energy."
Still others are indifferent.
Fairhaven resident Laurie Thompson said, "But I don't live near them, thank God." Mark Curtis asked, "So they don't bother you?"
Thompson responded, "Nope, not where I live, no!"
And that seems to be a big factor.
The closer you live to them, the louder the noise – and the louder the opposition.
ABC6 Chief Reporter Mark Curtis said, "Construction of these wind turbines began in November of 2011, but construction of something else very important started going on over in this direction, a short time later."
Many residents say they would not have voted to build a new school had they known wind turbines would be 23 hundred feet away
Former Fairhaven business owner Louise Barteau said, "I believe an injustice has been done to people here in this town."
Concerned about noise and health complaints, state inspectors conducted sound studies of the wind turbines – night and day.
That too, has erupted in controversy.
Louise Barteau said, "Why would this turbine suddenly not produce power?"
Barteau has been pouring over energy records online.
She says the developer knows when state inspectors are out there, and believes the wind turbine company deliberately cuts the power, which cuts the noise.
She calls test results from October 15th a smoking gun.
Barteau said, "So what you see right here, is that 'whoa,' all of a sudden this turbine, 'shew,' it's not producing power."
Sumul Shah is the CEO of Solaya Energy, which put up the turbines.
He denies manipulating the test results.
ABC6 Reporter Mark Curtis asked, "And you don't think there were any irregularities?"
Shah said, "There weren't any and I can tell you since I was the one who operated the turbines during most of the sound testing that I certainly did not impact the way the turbine ran during the testing period."
ABC6 Reporter Mark Curtis asked, "And you'd say that under oath?
Shah responded, "I would say that under oath, all the time, any day."
The State of Massachusetts continues to investigate the noise complaints, including allegations of manipulation.
In the meantime, people want relief.
Homeowner Peter Goben spoke of the wind turbines saying, "They are bothering me. I just keep waking up, waking up, waking up."
Neighbor Chelsea Isherwood said, "If you could at least shut them down at night, so people could get some sleep around here that would be a blessing to me."
Other communities with similar problems have turned off turbines overnight, but in Fairhaven, the jury is still out.
On Wednesday morning, officials from Fairhaven Wind issued a letter the State of Massachusetts DEP, admitting some of the noise testing was flawed.
The statement said, in part, "Clearly this was a mechanical error… we sincerely regret the inconvenience that this error caused on the noise testing."
Fairhaven wind blamed the data collection mistake on human error, and denies it tried to actually manipulate the test results.
It told the State of Massachusetts it would be willing to participate in new wind-noise studies, if need be, and that's what the state would prefer, after it discarded the tainted data.