Windy conditions most of the week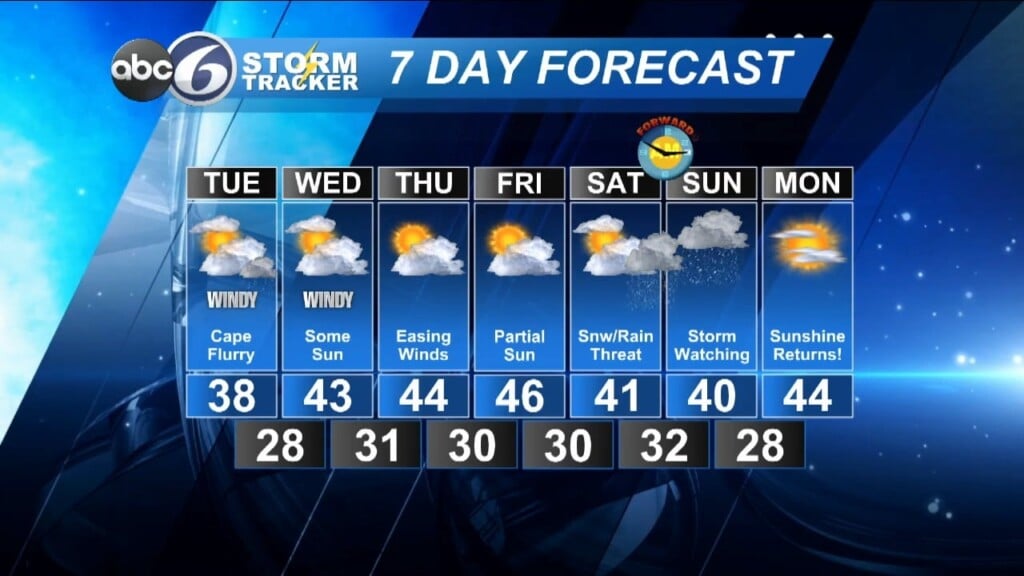 After a rather pleasant day today clouds will be on the increase overnight and the breeze will hold up quite a bit. Look for seasonably cold readings tonight and somewhat cooler than normal temperatures tomorrow.
The wind will certainly be the most notable factor for not only tomorrow but the next few days. Winds will be gusting between 25-30 MPH most of the time. The reason for all this wind is that Low pressure sitting over the Canadian Maritimes will be cut off from the jet stream and High pressure over the Great Lakes will press up against the ocean system to create all this wind.
Until this pattern can break down the winds will remain quite active through Thursday. Clouds will continue to be thrown in our direction as that Maritime Low sends spokes of energy down across the region, but the good news is that we will be staying dry.
As we look ahead toward the weekend, another storm system will be working into the Ohio Valley and then redeveloping on the coast just south of New England. Much like the last several storms that tracked here it looks like snow will develop late Saturday and most likely mix with or change to rain in southernmost New England. However, there is conflicting outcomes from the long range model guidance so we still need to give it a couple more days in order to get a good handle on how this should play out. So, be sure to check back in for updates. Also this upcoming weekend we set the clocks ahead one hour as Daylight Saving Time arrives!
Tune in to ABC6 News for my latest forecast.
TONIGHT: mainly clear this evening with clouds rolling in late. Remaining breezy with lows in the upper 20s. Winds NW 10-20 MPH.
TUESDAY: some morning sun then becoming mainly cloudy. Highs in the upper 30s with winds gusting from the NW at 25-30 MPH.
WEDNESDAY: partial sunshine, windy. Highs in the mid 40s.
THURSDAY: partly sunny, winds easing. Highs mid 40s.
FRIDAY: Partly sunny. Highs upper 40s.