Winter Storm brings mixed snow totals to Southern New England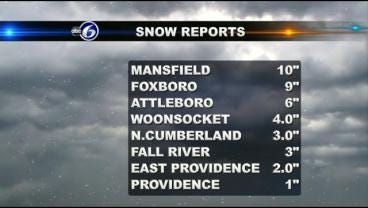 By: Alexandra Cowley
Depending on where you live, you're waking up to very different snow totals. Rhode Islanders dodged a bullet. No where in the Ocean State saw more than 4 inches of snow. Providence barely got an inch of accumulation. Nothern Rhode Island had the most snow, 4 inches in Woonsocket and 3 in Cumberland.
The most snow accumulations were seen in Mansfield, where snow totals reached 15 inches. Attleboro had 6 inches.
It's a slow commute Friday Morning, as roads are slick. Sand and salt trucks and plows have the Interstates taken care of. It's the secondary roads that you need to be extra careful on.
Stay with ABC 6 News for Continuing Coverage.