Wish-Bone Ranch dressing recalled due to undeclared egg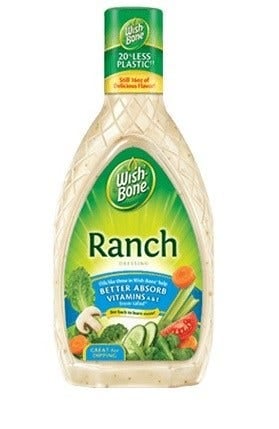 By News Staff
Thousands of bottles of Wish-Bone Ranch dressing are being recalled.
The makers of the popular salad dressing say the recalled bottles contain blue cheese dressing instead of ranch.
New Jersey-based Pinnacle Foods Group says blue cheese dressing was accidentally filled into 8,678 cases of bottles labeled as 'Wish-Bone Ranch Salad Dressing'.
This could be dangerous for anyone with an egg allergy because blue cheese does contain eggs. But, it is still safe to eat for people who are not allergic to eggs, the company said.
The 24-ounce bottles that were affected were filled on April 23, 2015, by a contract company, Pinnacle said. Consumers can identify them by their "best by" date of "Feb 17 16," and may return them for a full refund.
Pinnacle said it notified the Food and Drug Administration about the issue, and has advised distributors and retailers of the product to remove affected bottles from their assortments.
Consumers can find more information on the FDA website.
(C) WLNE-TV 2015