WishGivers raises money for Boston children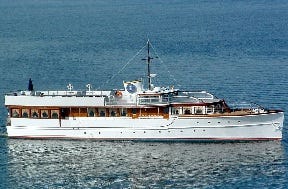 By: Haley Costello
WishGivers, an organization working to help sick children of
American heroes, is hosting a Camelot Cruise to raise money for a local fireman's
son and Boston Children's Hospital.
The dinner cruise event will take place on the Honey Fritz,
John F. Kennedy's presidential yacht, in Boston Harbor
on Friday, August 2, 2013 at 6:30 p.m.
The Boston
fireman's 2-year-old son has been diagnosed with leukemia, the same form that
claimed the life of WishGiver's co-founder, PJ Schrantz's, son.
Schrantz, a New
York City firefighter and 9/11 first responder,
co-founded WishGivers after the passing of his son.
(C) WLNE-TV 2013