Woman hit with bat after protesting over unpaid wages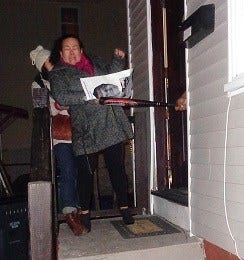 By Kirsten Glavin
kglavin@abc6.com
@kirstenglavin
PROVIDENCE – Flor Salatar said she was hit three times with a baseball bat by her former employer. Juan Noboa, once owner of Café Atlantic Restaurant on Chalkstone Avenue in Providence, is accused assaulting her and an officer, before fleeing. Naboa was caught a short time later by Police, and charged with simple assault.
"I thought… what if this had been not just a bat, but a gun or any other type of weapon that could have been far more dangerous," said Flor Salatar's Spanish to English translator.
Roughly 20 people gathered at the restaurant owner's home Saturday morning, to protest after they say he failed to pay 6 employees, more than $17,000 dollars in wages earned, from 2014. The Rhode Island Department of Labor and Training did agree to some wrongdoing, and granting 6 employees a little less than $4,000 dollars of that money, in June.
Noboa had 30 days to pay, but according to employees, he never did.
"We haven't received this money because the DLT tells him to pay, but doesn't have the ways to obligate him to pay," said Salatar.
Restaurant employees said they were exploited by their employer and failed by the legal system.
"If there had been laws in place that were actually affective to make employers pay… We need laws like these so that we do not have to put ourselves at physical risk," added Salatar.
Café Atlantic restaurant has since been shut down. The workers rights organization is also calling on the restaurant owners partner, Jose Bren, for accountability in paying.