Woman in tree charged after anti-gas pipeline expansion effort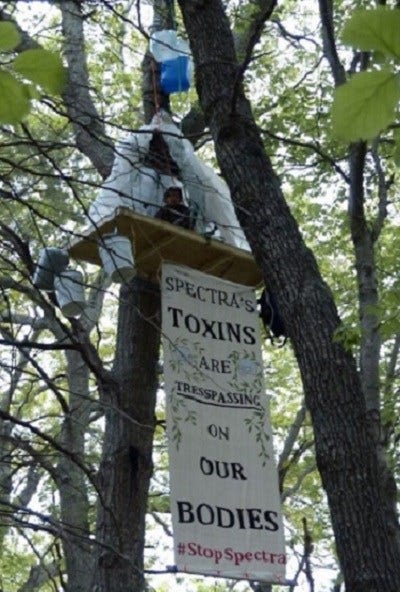 By News Staff
A Warren woman is facing charges after climbing a tree on private property and refusing to come down, all in efforts to prevent the proposed expansion of a gas compressor station in Burrillville.
Sherrie Anne Andre, a member of FANG (Fighting Against Naturals Gas), launched the "tree-sit" Tuesday and sat on a platform 60 feet above ground in Burrillville.
The property is owned by Algonquin Gas Transmission Company.
The station, owned and operated by Spectra Energy, pressurizes and moves gas along the "Algonquin" Pipeline. Spectra has proposed an expansion that would almost double the capacity of the compressor station.
The sit was aimed at preventing the tree-clearing that would be necessary for constructing the expansion.
The Pascoag Fire Department had to help police in getting her down.
She is now being charged with trespassing, resisting arrest and disorderly conduct.
© WLNE-TV 2015