Woman recycles wedding dress into practical clothing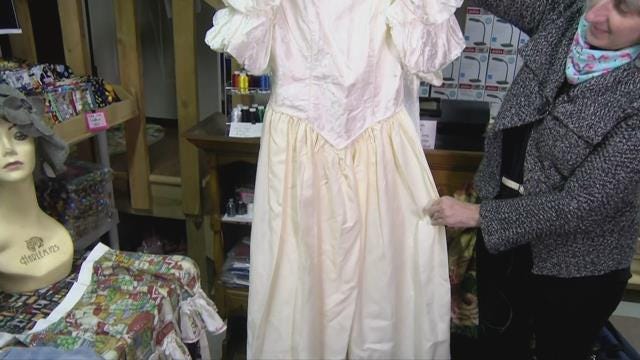 By: Ellie Romano
Email: ERomano@ABC6.com
Twitter: @ERomanoABC6
EXETER, R.I. (WLNE) – An Exeter woman is proving that anything can be repurposed, even a wedding dress.
Cindy Chappron got married in July of 1986 in Las Vegas. She's kept her wedding dress since then.
"It's always been in a closet or hanging somewhere," said Chappron.
But whenever she saw it hanging, she got a little sad thinking it was wasted on just one day.
"I don't have children. Nobody wants it. Today, everybody wants their own wedding dress," said Chappron.
She then met seamstress Margarida Carvalho who transforms old clothes. She takes fabric from coats, pants, and drapes and recycles them into hats, purses, and children's clothing.
"You can give them a second chance. They're beautiful materials," said Carvalho.
Carvalho took the bottom fabric on Chappron's wedding dress and turned it into a button-downed shirt.
"I was like 'oh my god, I love it,'" said Chappron.
Now, the sentimental clothing from 34 years ago is once again a part of Chappron's marriage.
"On my anniversary, that's what I'll be wearing," said Chappron.
©WLNE-TV/ABC 6 2020