Woman remains in critical condition following RIPTA accident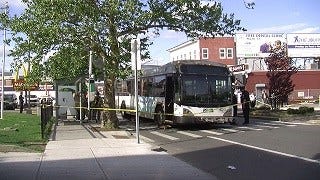 The 31-year-old who was trapped under a RIPTA bus on Wednesday remains in critical condition.
ABC 6 News spoke with Bobbie Moore's mother briefly Thursday. She told us her daughter has many different injuries.
She also said she is "disgusted" over what happened.
RIPTA officials say video from the bus shows the whole accident happened in a matter of just 7 seconds.
"She's running, she appears in the frame, hits the bus with some part of her body," said the Director of Public Affairs at RIPTA. "It seemed to me to be her head, and then she falls, lands in the street right under the rear tires and there's a lot of people yelling and the bus stops."
It took fire crews around 15 minutes to free Moore from under the bus on Broad Street Wednesday afternoon.
"She was yelling for help," said a man who had just gotten off the bus when the accident happened. "But how much help can you give a person in that situation."
Shortly after the accident several witnesses told ABC 6 News that Moore was knocking on the bus trying to get inside. But, Polichetti says the video does not show that.
"We actually see her stumbling and falling and hitting the bus. We don't see her knocking," said Polichetti.
We're told the driver of the bus has been with RIPTA for eight years. Polichetti says he has a good driving record.
"We'll be conducting our own internal investigation. In accordance with policy the driver is on administrative leave while our own process goes forward and while we wait for the outcome of the police investigation," said Polichetti.
As of the bus driver is not facing any charges.
(C) WLNE 2015