Woman reunited with her bird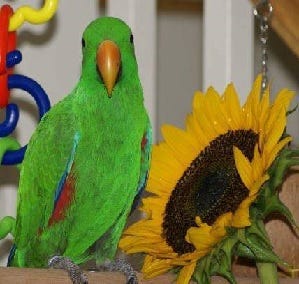 Olivia Cianci
ABC6 has been following and sharing the story of a woman and her lost bird on our Facebook page. Their nightmare comes to a close as the bird is found.
Holly Rougier rejoices as she is reunited with her beloved bird, Zazu, a 9 year old Solomon Island Eclectus parrot.
Their journey began on March 24th, 2007 when Holly decided it was time for a companion for her Conure parrot, Zoe. So Holly researched pet stores around her area, and narrowed it down to two. It wasn't until she went into the second store with her son that she spotted Zazu.
Zazu was only a year or two old at the time, and was offered half priced because he came with "baggage". He and his sister, also at the store, had been neglected, unwanted, and nearly starved. The two parrots had been dropped off in a box on the steps of the pet store. Holly decided right then and there that she wanted to rescue Zazu.
However, Zazu had proven to be more of a challenge than Holly and her family had expected. He was very timid and trusted nobody. The family spent months assimilating him into their family.
Little by little, step by step, Zazu began to trust Holly. She spent countless hours by his cage doing anything to make him feel secure whether it was singing, reading or feeding him by hand. Within a year, Zazu was able to use the shower, play with his toys, and eat healthy foods. He became a great dancer, and was able to be held by other members of the family. Zazu learned many words, and even how to ask for a shower. He especially enjoyed going for walks with Holly, or "Mama" as he called her.
Since that fateful day six years ago, Zazu and Holly have created a bond unlike no other. She thinks of Zazu more than just a parrot or even a companion. Holly sees Zazu as her son.
That's why on July 3rd, when Holly got a phone call saying that Zazu had escaped from the house, she rushed home as quickly as possible. He was in a tree in front of their house, and was calling for "Mama".
Holly and her family tried for hours to get Zazu down. They even tried using a bucket truck to get him down. This only spooked him, and made him fly higher. Once nightfall came, the fireworks started and that's when Zazu flew away into the night. That was at 8:30 pm.
Since then, Holly had been posting on every lost and found page, making flyers, leaving her house at 5 am every morning in search of him, and doing anything that she could to spread the word. She was heartbroken, and felt as though she had lost her own child.
After 5 days without Zazu, Holly finally got some good news. He had been found by a couple in Barrington who immediately called the animal hospital.
Holly and Zazu are back at home now, resting and recovering from the biggest scare of their lives. She wants to thank everyone who helped spread the word and got her baby back to her.
WLNE-TV 2013