Women's march tweet sparks controversy in East Greenwich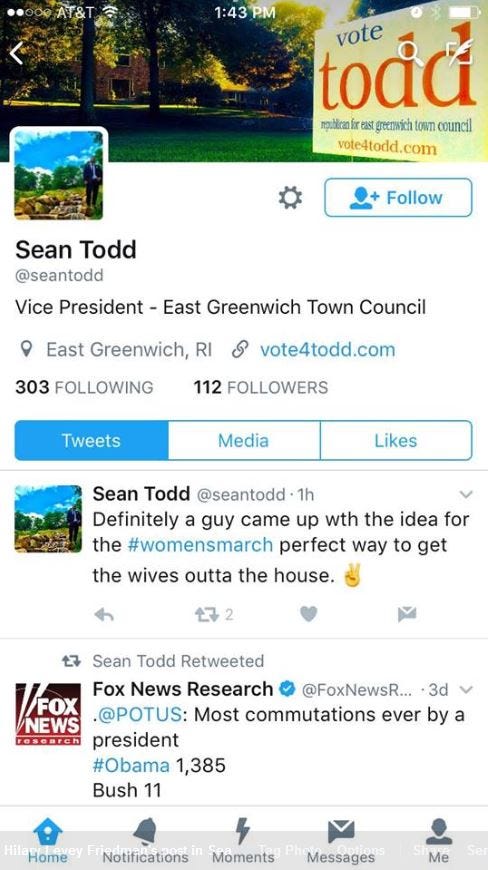 By Bianca Buono
bbuono@abc6.com
@BBuonoABC6
A message less than 140 characters long is fueling a fire in East Greenwich.
Sean Todd, the Vice President of the East Greenwich Town Council, sent out a tweet on Saturday during the women's march reading, "Definitely a guy came up with the idea for the women's march. Perfect way to get the wives outta the house."
The tweet upset hundreds of people so a group organized a protest at Monday night's town council meeting.
Since the backlash began, Todd has apologized for his tweet, calling it a joke. In a statement released to ABC6, he said in part, "It obviously didn't work and for those who feel offended I'm honestly sorry. It wasn't my intention."
Still, so many people showed up to the town council meeting that the meeting's location had to be moved.
"When we heard about Mr. Todd's tweet, it just really cut to the center of our hearts because we sacrificed a lot to go and we are fighting for things that affect everyone," said Claire McWilliams.
"I do believe that he saw that there was a strong show of support and that people are watching and that we want him to think before he acts as an elected official," said Hilary Levey Friedman who helped coordinate Monday night's protest.
Todd apologized again Monday night to the crowd for his tweet, but several people are calling for his resignation.
© WLNE-TV 2017