Woonsocket bracing for state takeover after tax vote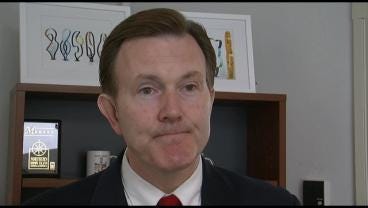 Woonsocket Mayor Leo Fontaine was counting on a 13% supplemental tax to cover a lot of things, including the teacher's payroll. Representative Lisa Baldelli-Hunt had told him she was in support of the tax, but announced a change of heart in front of the entire house.
"What happened last night was a complete turnaround from what was presented to us," Fontaine said. "She said on Tuesday she was going to support it as a courtesy to the community, but never had the courtesy to tell us she had a change of heart."
Baldelli-Hunt came out against the tax as soon as it hit the house floor, jut three days after she told Mayor Fontaine she was in support of it.
The representative convinced her fellow lawmakers to put the bill back in committee because she says the tax would only raise about $6.5 million of the $10 million Woonsocket needs.
"I have no idea where she came up with those numbers whatsoever," Fontaine said.
Calls to Baldelli-Hunt were not returned.
"A true leader will come up with a plan and get us out of this mess," Jeffrey Partington of the Woonsocket Teachers Guild said. "And she's nowhere to be found."
Jeffrey Partington is just one of the Woonsocket teachers who might not get paid next week because of this. The city loaned the school department money just to make the last payroll.
"Every payday has been are we going to get paid today," Partington said.
Mayor Fontaine says the only other option is asking the state to step in. Governor Chafee is calling on the legislature for action.
"If the building right behind me here with the House and Senate would take some positive action, we could avoid these bad decisions for our cities and towns," Chafee said.
The Woonsocket City Council has set up a meeting for Sunday to consider asking the state for help.