Woonsocket costume shop closes after 27 years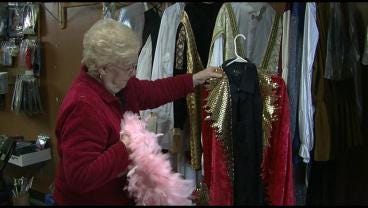 The wind chimes have always greeted those who walk in to Harlequin's Costumes on Main Street in Woonsocket, but the ringing stopped Monday afternoon when the doors closed for a final time.
Marlene Gagnon opened the costume rental store 27 years ago. She says the closure is the result of the economy and big box stores who offer cheaper quality costumes at a lower price. Most of Gagnon's costumes are handmade.
"I used to have 1300 of them at least," Gagnon said. "Now, most of them are gone."
The racks are barren and the shelves, nearly empty. A Dorothy dress still hangs next to a jester outfit, but the shop houses much more than costumes.
"I made this one for a private investigator's wedding," Gagnon says while pointing to a gold and white vest. "It was a medieval theme and I have rented it so many times since then."
Stitched into the fabric of every costume is a story and a memory. Sporting a pink boa, the 75-year-old walks around the shop, trying to sell everything she can before time runs out.
"The flapper dresses are really popular because they go with the gangsters. I have plenty of gangster suits over there," Gagnon said.
The cash-strapped city of Woonsocket received a federal grant of $100,000 to revitalize Main Street, where the costume shop is located.
"I won't be here," she said. "It will just be too late." Gagnon plans to donate the costumes she was not able to sell to local schools and churches.