Woonsocket Park Looking towards Improvements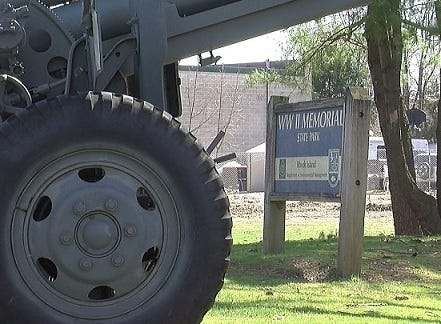 By: Chelsea Priest
On a sunny Spring day, the park benches at the World War II Veterans Memorial Park in Woonsocket are empty, but that's not how it used to be. Ida Sparman reminisces, "water for kids, we had a diving board you know for the adults and the kids, used to lay in the sun."
She remembers coming to the park as a child but today is not how she likes to see it. She goes on, "Yes, it's disappointing to a lot of us, and the kids, a lot of them don't have (anywhere) to go."
The state park has been neglected for years due to budget cuts. Several years ago, 2.6 million dollars was approved for the revitalization of the 11-acre area but without funding to keep-up the park, the plan has been on hold.
Mayor Lisa Baldelli-Hunt explains, "the component that was missing was the portion of the maintenance and staffing of the park and since we are under the control of a budget commission we don't have the additional funds to use for the maintenance and staffing."
She also went on to say that the state wants to turn ownership of the park to the City of Woonsocket but the city would need additional funding, about $250,000 annually. Baldelli-Hunt said, "so what we're looking for is six years of funding that'll get us through the five year plan and the state doesn't want the park, so it's their asset but we are willing to take it over, so we just need to get through this five year plan that we're in."
The decision on the funding for the park will be made in the next two months. Sparman goes on, "the hopes are that they get this place back in tact because it's been the WWII Veterans Park for many moons and it's a great place to be!
(C) WLNE-TV 2014