Woonsocket students forced to walk on the road due to unshoveled sidewalks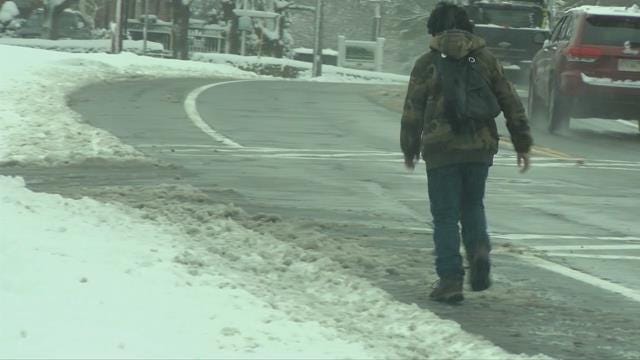 Email: BTaylor@ABC6.com
Twitter: BTaylor@ABC6
WOONSOCKET, R.I. (WLNE): Despite many districts closing school for the day because of the snow, class was on for students in Woonsocket. But some parents were not too happy when they noticed the sidewalks near the schools were not shoveled, forcing their kids to walk in the middle of the road to school.
Dozen of high schoolers walked home from school side by side with traffic.
"I'm just trying to avoid the cars but it's pretty scary," one student at Woonsocket High School said.
Leo A. Savoie School, an elementary school in Woonsocket, is having similar issues. The school is responsible for shoveling the sidewalks in front of the school. However, parents are noticing that the sidewalks outside of residential areas nearby are piled with snow.
"It's been a nightmare," Ara Lekatsas, a parent with a 2nd grader, said. "The crosswalk across from the school is absolutely inaccessible. No one can cross unless you are physically on the road and that's unsafe."
ABC6 reached out to the Department of Public Works to find out who is responsible for clearing the sidewalks. The director said according to public ordinance, the residents are responsible for shoveling the snow in front of their homes. This goes for Cass Avenue near the High School and Mendon Rd. near the Elementary School.
Lekatsas and other parents say the city should help residents that live near the schools for the safety of students.
"It's not about pointing fingers," Stephanie Le Blanc-Frechette, another parent said. "It's about the safety of our community. Is there a way the community, city/school, can meet to resolve this matter?"
The Director of Public Works said they do help out with the sidewalks after the storm.
©WLNE-TV/ABC6 2019