Woonsocket thanks Vets, dedicates park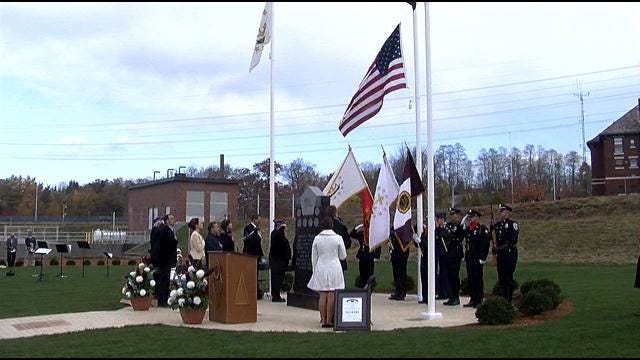 By: Melissa Randall
mrandall@abc6.com
Hundreds of people gathered together Tuesday morning to dedicate the new United Veteran's Council of Woonsocket Armed Forces Park. The site, which sits on Davison Ave in the River's Edge Relational Complex, serves as a symbol of thanks to area veterans.
"It's great. Fantastic. It's wonderful," said Richard Fazzio who served during D-Day.
The project was sparked by two siblings from Mount Saint Charles Academy. Christopher Lepine, 17, and his twin sister were each working towards a scouting badge and were inspired by their grandfather's service to his country.
"It means the world and I'm very happy that we could do this for the veterans who gave their lives and so much for our freedom," said Jennifer.
"Seeing all them– they're thanking me but we should be the ones thanking them for all the hard work they've done for this country," said Christopher.
The park took about 3 months to complete. The work was done by volunteers and it was paid for mostly through donations.
"I came every day as a spectator just to see what was going on and the spirit of Woonsocket shown through fabulously," said Gene Peloquin, a veteran from North Smithfield.
The park has benches, a brick walk way and flag poles, making it an ideal spot for community reflection. The plan moving forward is to add plaques to help educate visitors on the contributions made by local servicemen and women.
© WLNE-TV 2014
Follow me on Twitter @MelissaARandall