Dog locked in car, Woonsocket woman charged with animal cruelty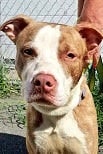 By: Alexandra Cowley
Reporting By:
Melissa Toupin
A dog was found locked in a car Monday by a tow truck driver. Police say a 20-year-old woman from Woonsocket called for help, after locking her keys in the car. When the tow truck driver arrived and found a 6-month-old pit bull locked inside Keisha Davis's hot car, he called police.
Animal control officer Doris Kay told the Woonsocket Call, the pit bull did not show signs of long-term neglect and was dehydrated.
Police say that Davis admitted the dog had not been fed in over a day, and was unable to recall how long the pit bull puppy had been inside the car. The windows were smeared with dog feces.
(C) WLNE-TV 2013
Information from AP