Pawtucket WWII veteran finally gets his medal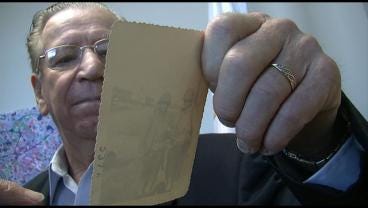 It took awhile, but a veteran and life long Rhode Islander was honored in Pawtucket Monday. Leo Beland was finally awarded with the bronze star for his service in World War II.
Leo Beland is pretty energetic for a man who will celebrate his 90th birthday this year and his 67th wedding anniversary. But Monday's celebration was something the veteran from Pawtucket had waited years for.
"67 years," Beland said. "Yeah. I should have received it 67 years ago."
He should have received the bronze star after serving in the battle of Normandy in World War II.
"Machine gun shots down the back of my leg," Beland recalled. "I lost so much blood that I passed out and when I woke up, a German was about 10 feet away from me with a looga."
Beland was captured by the Germans and a prisoner of war for over a month until he was rescued. He came home with a broken leg and plenty of medals, except from his Bronze Star.
"They ran out of them and then they just forgot to send them," Beland said.
He felt forgotten until he told Congressman David Cicilline, who checked his records and got a hold of the medal.
"I would like to present you with the star you earned long ago," Cicilline said.
It is a star now in the hands of it's rightful owner 67 years later.
"Better late than never," Beland joked.