Wrestling body reacts to Olympic rejection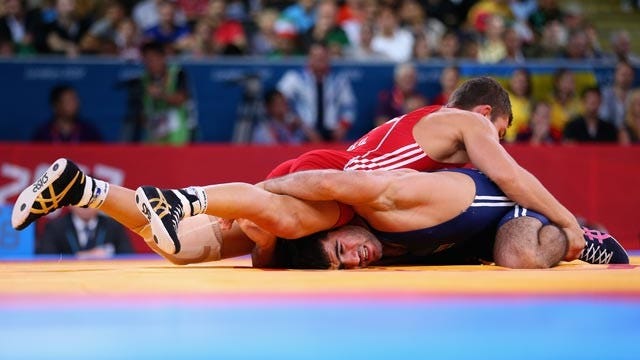 LAUSANNE, Switzerland (AP) _ Wrestling officials called Tuesday's decision to drop the sport from the Olympic program an "aberration'' against a founding event.
Known by its French initials FILA, the sport's governing body said it was "greatly astonished'' by the IOC executive board decision.
Past and present Olympic champions in Greco-Roman and freestyle wrestling called the rejection "mind-boggling'' and a "tragedy'' for the sport.
"FILA will take all necessary measures to convince the IOC Executive Board and IOC members of the aberration of such decision against one of the founding sports of the ancient and modern Olympic Games,'' said FILA, which is based near the Olympic home city of Lausanne.
A last chance at a remarkable reprieve to maintain wrestling's Olympic status from 2020 onward will come at a meeting in Buenos Aires, Argentina, in September.
Still, FILA President Raphael Martinetti faces criticism much sooner when his ruling body meets this weekend in Phuket, Thailand.
Russian wrestling federation leader Mikhail Mamiashvili, who is a board member, said FILA was part of the problem.
"I believe that Martinetti's task was to work hard, socialize and defend wrestling's place before the IOC,'' Mamiashvili said in comments reported by the Itar-TASS news agency.
German federation official Jannis Zamanduridis said "a piece of the Olympic idea is dying with this decision.''
Wrestling featured on the inaugural modern Olympic program in Athens in 1896, and counts 180 member countries.
The sport also appeared to meet the IOC's modern requirement of "universality'' _ with global appeal and competitive balance across the world.
"That's mind boggling,'' Khasan Baroev of Russia, the 2004 Olympic champion in the 120-kilogram Greco-Roman class, told Itar-TASS. "I would understand if Russia had taken all the medals at the (London) games, but this touches not only us, it touches the whole world.''
With a total of 18 events for men and women in London, 29 different countries won medals. Russia and Japan each got four titles and golds were also won by athletes from Uzbekistan and Azerbaijan. India, Mongolia and North Korea also featured in the medals table.
Puerto Rico took home only two medals across 26 sports in London, including silver for wrestler Jaime Espinal in the men's 84-kg class.
"That was a great story,'' former IOC executive board member Richard Carrion told The Associated Press. "I'm very sad (today) in the sense that that athlete, and that particular club, were from a very poor neighborhood.
"They didn't even have a regulation-size mat and produced three wrestlers that qualified for the Olympic Games. Let's see what happens in Buenos Aires.''
Russian gold medalist Natalya Vorobyeva, who won the women's 72-kg freestyle class, told Itar-TASS that dropping wrestling "will be a tragedy for many people.''
"I think everything will be all right. Wrestlers will fight for their place (at the games) till the end,'' she said.
Former Olympic champion Cael Sanderson insisted his sport's appearance on the 2016 Rio de Janeiro Games program would not be its last. "It might just awaken a sleeping giant here,'' the 2004 Athens Olympic champion in 84-kg freestyle told the AP. "It's sickening, really. It makes me sick to think about it.''
___
AP Sports Writers Luke Meredith in Des Moines, Iowa, and Nesha Starcevic in Frankfurt, Germany, and Associated Press writer Nataliya Vasilyeva in Moscow contributed to this report.