WWII Veteran awarded medals nearly 70 years later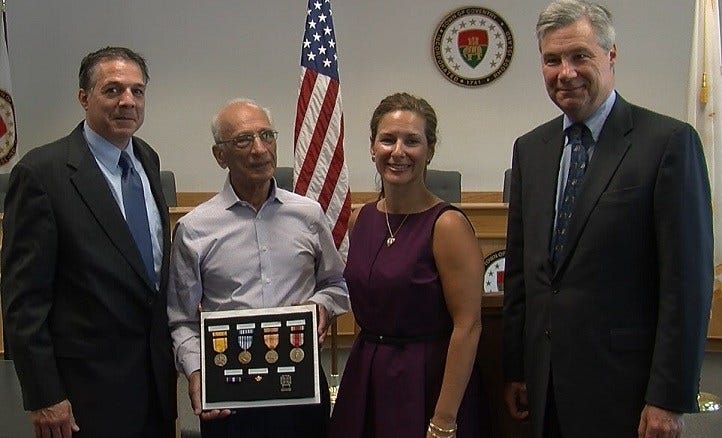 By: Melissa Randall
mrandall@abc6.com
A World War II Veteran is finally awarded his medals for outstanding service. While serving with the Army's 38th Infantry Division Anthony "Tony" D'Abrosca earned, but never received several prestigious medals. In a ceremony Monday he graciously accepted them.
"I waited almost 70 years for them and uh I thought it was a lost cause, but they finally came though," he said.
D'Abrosca was just 18 when he enlisted. He was just 4 months shy of his graduation.
Senator Sheldon Whitehouse and State Representative Lisa Tomasso presented the now 87–year–old Coventry man with 7 medals for his service in the Pacific Theatre.
"It's important when people serve the way veterans do that we never forget, so 70 years seems like a long time but in the context of never forgetting it's just a blink," said Sen. Sheldon Whitehouse.
D'Abrosca comes from a great big family. Joining him for the big day were 10 of his brothers and sisters, plus his son and all of his grand children.
"Oh it was very exciting. Even much more than I anticipated," said Sonia Cohen, D'Abrosca's Partner.
D'Abrosca is humbled by the honor, and says he'd do anything for his country.
"It's worth fighting for, and uh, if a war came here again I'd join again right now," he said.
The veteran says a lot of people did more than he. So, D'Abrosca is dedicating the medals to all those who served, and never made it back.
© WLNE-TV 2014
Follow me on Twitter @MelissaARandall