Xavier Rallies Past PC Women's Basketball In BIG EAST Opener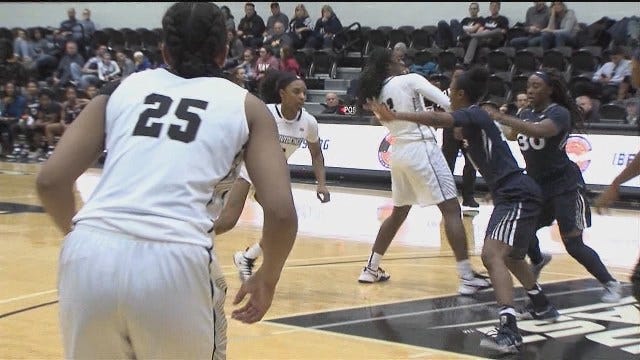 Providence College Press Release
PROVIDENCE, R.I. – The Providence College women's basketball team fell to Xavier, 54-51, in its BIG EAST Conference opener on Dec. 28 at Alumni Hall in Providence, R.I. Senior guard Sarah Beal (Matthews, N.C.) led all scorers with 16 points for Providence. The Friars dropped to 8-4 overall on the season (0-1 BIG EAST), while Xavier improved to 9-3 (1-0 BIG EAST).
Xavier tallied the first bucket of the game, but the Friars followed with a 16-2 run to take a 16-4 advantage with 1:36 left in the first quarter. Raeshaun Gaffney hit a three-pointer for Xavier to halt the run with 43-seconds left and Providence took a 16-7 lead into the break.
Xavier opened the second quarter with another three from Gaffney to get within six (16-10), but the Friars went on an 8-2 run to take a 24-12 lead with 5:04 on the clock. The Friars held a 28-16 lead at halftime.
The Musketeers used a 10-0 run in during the third quarter to get within one (35-34) with 2:17 left on the clock. Providence closed the quarter with a driving lay-up from Beal and a free-throw by Aliyah Miller (Southaven, Miss.) to take a four-point advantage into the fourth quarter (38-34).
In the fourth quarter, Providence fought off Xavier on several occasions as the Musketeers tied the game with 4:36 remaining (43-43) and again with 3:08 on the clock (45-45). Each time, Miller helped Providence regain the lead, first with a lay-up and then with a pair of free throws.
Xavier's Gaffney knocked down a three-point bucket with 2:28 remaining in the game, to give her team its first lead since the opening basket of the game. Leah Schaefer followed with a lay-up to give Xavier a 50-47 advantage with 1:47 to play, and the Musketeers held off the Friars down the stretch.
Providence got within one (52-51) with six second on the clock as Allegra Botteghi (Bologna, Italy) scored off an inbounds play. The Friars fouled immediately and Marquia Turner made both free throws to give Xavier a three-point cushion with four seconds on the clock (54-51).
Providence called timeout to advance the ball and draw up a final play, but Clara Che's (Valencia, Spain) deep look at a three was off the mark.
Botteghi and Miller joined Beal in double figures with 13 points and 11 points, respectively. Miller narrowly missed a double-double as she also contributed a game-high nine rebounds. Jovana 'Yoyo' Nogic (Lisbon, Portugal) finished the night with nine points.
Maddison Blackwell led Xavier with 15 points and nine rebounds, while Gaffney completed the night with 11 points.
The Friars return to action on Friday, Dec. 30 against BIG EAST foe Butler. The game will tip-off at Noon and will be played at Alumni Hall / Mullaney Gymnasium in Providence, R.I. ?