Yankees Lose to Royals on Derek Jeter Day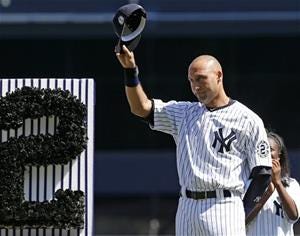 Royals spoil Jeter's day with 2-0 win over Yankees<
By RONALD BLUM=
AP Sports Writer=
NEW YORK (AP) _ Yordano Ventura and the Kansas City Royals turned Derek Jeter Day into another disappointing defeat for the New York Yankees' captain in the dwindling days of his career.
Ventura pitched three-hit ball into the seventh inning, and the AL Central leaders beat the Yankees 2-0 Sunday on a pair of unearned runs for their second shutout in the three-game series.
Kansas City scored due to errors by pitcher Shane Greene (4-3) in the second inning and right fielder Carlos Beltran in the third. The Royals, who won 1-0 Friday night on an unearned run following an error by third baseman Chase Headley, went 4-3 against the Yankees this year to take the season series for the first time since 1999.
AP-WF-09-07-14 2107GMT