Yankees overcome Mo's blown save, beat Red Sox 4-3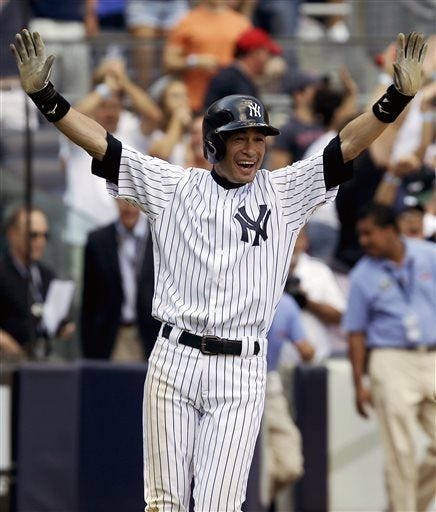 The Associated Press
Yankees overcome Mo's blown save, beat Red Sox 4-3
NEW YORK (AP) _ Ichiro Suzuki scored on Brandon Workman's wild pitch with two outs in the ninth inning Sunday, and the New York Yankees overcame Mariano Rivera's blown save for a 4-3 victory over the Boston Red Sox that prevented a four-game sweep.
Robinson Cano hit a two-run double and the Yankees finally quieted Boston's booming bats behind starter Hiroki Kuroda. They took a one-run lead into the ninth inning before Rivera, called on to start the eighth, gave up a wind-aided homer to streaking Will Middlebrooks.
Suzuki hit a one-out single off Workman (5-3) in the bottom half, stole second and advanced to third on Vernon Wells' fly to right.
Workman then fired a high pitch that deflected off the mitt of catcher Jarrod Saltalamacchia and caromed away off the backstop, allowing Suzuki to score easily.