Yankees Snap Two-Game Skid with 8-3 Win over Orioles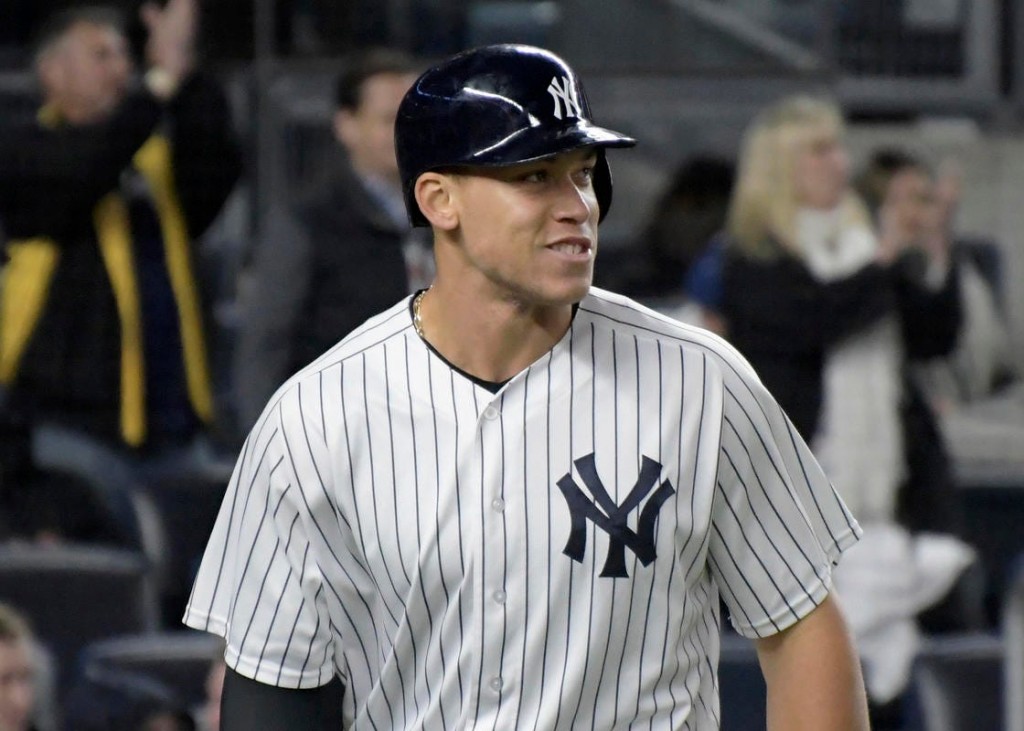 Sonny Gray pitched six effective innings, rookie Miguel Andujar hit a tiebreaking sacrifice fly and the New York Yankees downed the Baltimore Orioles 8-3 on Saturday to snap a two-game skid.
New York broke a 3-all tie in the sixth on Andujar's sacrifice fly, scoring Didi Gregorius with his first RBI of the season.
Austin Romine hit a soft pop to shallow right later in the inning that bounced out of first baseman Chris Davis' glove, allowing Tyler Austin to score and chasing starter Chris Tillman (0-2).
The day after the Yankees used eight pitchers in an extra-inning marathon, Gray gave his team some much-needed length. The righty was charged with three runs on four hits, walking two and striking out four.
Gray (1-0) dodged trouble with his final batter thanks to newcomer Jace Peterson, who was signed to a major league contract before the game. With runners on second and third and two outs, Peterson snagged Pedro Alvarez's hard-hit liner on the run _ slamming into the left-field wall after making an acrobatic catch.
David Robertson entered in the seventh with one out and runners on second and third, fanning the dangerous Manny Machado and Jonathan Schoop to preserve the lead. Robertson struck out four of the five batters faced.
Aaron Judge tied the score at 3-all with an RBI groundout in the fifth. He also scored Brett Gardner with a double in the seventh, giving New York a 6-3 advantage.
Gardner safely reached base four times, including a two-run single in the second that gave the Yankees an early lead.
Pedro Alvarez doubled in a run in the fourth for the Orioles, a day after hitting a game-winning grand slam in the 14th inning. Machado continued his hot hitting, tying the score in the third with a two-out, two-RBI double into the left-field corner. The three-time All-Star is 5 for 9 with two home runs and four RBIs over the past two games.
Tyler Austin blew it open for the Yankees with a two-RBI single in the seventh, extending their lead to 8-3.
Making his 200th career start, Tillman allowed five runs on eight hits and four walks over 5 1/3 innings, striking out three. He is 0-9 with an 8.32 ERA since May 7.
TRAINER'S ROOM
Orioles: OF Colby Rasmus (left hip flexor strain) was placed on the 10-day disabled list. … Mark Trumbo (right quad strain) was expected to play first base in an extended spring training game.
Yankees: LHP CC Sabathia (right hip strain) and 3B Brandon Drury (severe migraines) were both put on the 10-day DL. Sabathia's MRI results were clean and the club hopes he misses just one start. Drury has been dealing with serious headaches, which have been causing blurry vision. He will undergo tests beginning Monday and there is no timetable for his return. … INF Tyler Wade (flu-like symptoms) received IV treatment and was feeling a little better after experiencing a fever, shakes and dry heaving on Friday. … C Gary Sanchez (leg cramps) was improving after limping off of the field Friday. "At this point it appears to be minor," manager Aaron Boone said. … RHP Ben Heller on Friday underwent Tommy John surgery, which also involved removing a bone spur from his right elbow.
UP NEXT
RHP Mike Wright Jr. faces LHP Jordan Montgomery in the series finale on Sunday. The 25-year-old Montgomery made five starts against Baltimore last season, going 2-1 with a 2.67 ERA.