Years of flooding on Johnston's Belfield Drive could soon be fixed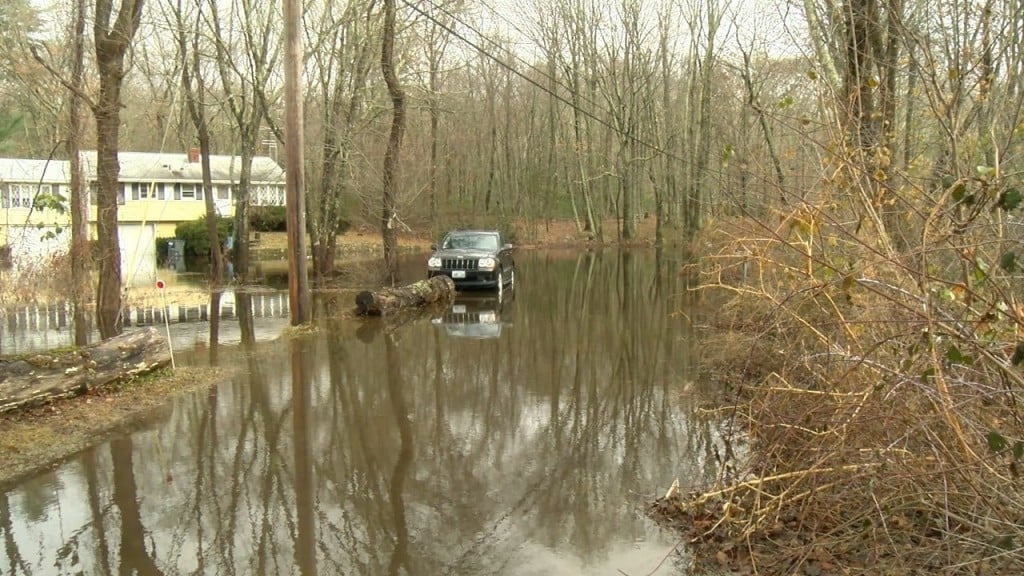 By: Amanda Pitts
alpitts@abc6.com
@APittsABC6
JOHNSTON, R.I. (WLNE) – Plans to fix years of flooding problems on Johnston's Belfield Drive were laid out in a press conference Monday, where leaders announced the state has received federal funding to provide an immediate fix.
Belfield Drive, located off of Route 6 in Johnston, first started filling with water during historic flooding in 2010. The floods returned in November of 2018, and have been a persistent problem ever since.
"I hope it works, cause it was a big inconvenience. Anybody with a little car couldn't get through the puddle so my daughter couldn't come visit me, it wasn't pleasant," said resident Richard Malo.
Pumps were installed in December, but the flooding continued.
Officials say the flooding is due to a clogged culvert in a nearby property. The town doesn't know who owns it, but said it's a Brownfield lot, meaning it's in the EPA's hands.
On Monday, Mayor Joseph Polisena, along with members of Rhode Island's Congressional delegation, announced that the U.S. Department of Agriculture's National Resources Conservation Service received funding allowing them to purchase floodplain easements on properties affected by the flooding.
Only two properties are eligible, those that have flooded at least twice.
The owner of 68 Belfield Drive agreed to the buy-out but hasn't yet found a new place to live. The owner of 51 Belfield Drive declined.
The project, aiming to be completed by the end of 2019, will be in two phases.
Phase one of the project entails tearing down the home at 68 Belfield Drive, followed by engineers coming up with a design plan.
Once funding is approved for phase two, the property will be turned back to its natural state, and the road will be raised 3 or 4 feet, according to an engineer from the USDA.
"The scope of this project is to provide immediate relief, immediate relief, to the residents and also along the road," said engineer Alan Gillespie.
The first phase is expected to be completed by the fall.
© WLNE-TV 2019