Your Town Your Life: Scholarships awarded to Providence students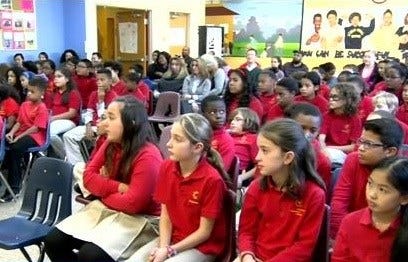 By News Staff
Reporting by Melissa Randall
mrandall@abc6.com
More than 150 thousand dollars in scholarships is being awarded to elementary school students in Providence. The boys and girls earn the money for college by reading over the summer.
It was a big day for students at Community Preparatory School in Providence on Tuesday. The 4th through 6th graders are receiving one thousand dollar scholarships to help them achieve their goals of higher education.
That money comes from the non-profit, "Read to Succeed." The goal of the program is to prevent summer reading loss, making sure South Side Elementary School kids don't fall behind.
"We follow the kids from 4th grade through 8th grade, so at the end of 8th grade, they have the potential of five thousand dollars set aside for college," says Barbara Papitto, President of Read to Succeed.
Even though the 3rd grade students are too young to participate in the program just yet, they are invited to come down and sit in these seats to watch. The idea is to inspire them.
Each of the Read to Succeed scholars finished six challenging books before the start of school and passed a comprehension test.
To Aiden Meehan, it's not work–just fun.
"I feel it just works my mind a lot more than just playing video games, for example," he says.
The one thousand dollars will be placed into a Rhode Island college bound fund. It will come in handy because these kids have big dreams.
153 students at Community Preparatory School, Bishop McVinney Catholic Elementary School, and Highlander Charter School, earned scholarships. That totals 153 thousand dollars for 2015.
© WLNE-TV 2015