Your Town: Glocester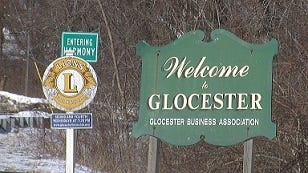 By: Alexandra Cowley
In this weeks segment of your town, your life we travel to Northern Rhode Island, stopping in the small town of Glocester. It was named after Henry Stuart, Duke of Gloucester, England. The area is home to two villages, Harmony and Chepachet.
Chepachet is known for its annual Ancient and Horribles Parade. The Fourth of July parade is a New England tradition that
dates back to the 1870's. The town of Glocester began the celebration in 1926. It
features the usual floats and fire trucks, along with unusual costumes and
political spoofs.
The village of Chepachet is also where a political rebellion
came to a screeching halt. In the early 1840's, a man named Thomas Wilson Dorr attempted
to change the states voting laws. Back then, a man had to own 134 dollars in property to vote. Dorr had a large group of supporters known as the Peoples Party who elected him governor, in an effort to get incumbent Samuel King out
of office. But this only sparked an upheaval. King sent his military to stop Dorr and his followers. It ended at Dorr's headquarters, now the Tavern on Main.
Edna Kent is the town historian and preserves the door lock that was shot through during the rebellion.
"This is the box lock that was shot through during the Dorr Rebellion in 1842. This is the interior of the lock and as you can see the
key is frozen into the lock,"said Kent.
Soon after, the Rhode Island General Assembly reworked the
constitution, allowing any free man who could a pay a dollar, to vote. As for Thomas Dorr, he initially escaped capture, but was
later found guilty of treason, sentenced to hard labor for life. Dorr died in 1854.
There's a place in Chepachet that's even older than the Dorr Rebellion. A country store, right smack dab in the center of town. But it's not just any store. It's one of the oldest continuously operating country
stores in America.
You can't pass by Brown and Hopkins Country Store in Chepachet without stopping in. And you cant stop in, without falling in love with some piece
of it.
The store began many generations ago in 1799. The building
became a general store in 1809. For the next one hundred years, it went
through many different owners. Until, James Brown and William Hopkins took it over in 1921. It's now owned by a local woman.
Heather Higginson remembers coming to the store when she was
little to get the penny candy. She's worked here now for two years.
Higginson said, "The building is very unique, you have the boards
sticking out the ceiling and the floors they wave because they're so old."
The two story building has wall to wall treasures. From candles and hand painted signs, to foods and home
décor. But the store is
known for more than what you see.
"We also are rumored to have a ghost, so that's a
little fun," laughed Higginson.
It's not just a rumor. Higginson says she's witness some
unusual things happen.
"We'll come in and scarves will be braided, chairs will
be pulled out, drawers will be open, you know things like that," she explained.
Staff say the ghost is Ella, the daughter of Mr. Hopkins. She lived for 87 years. They say she's a nice ghost, that likes to play tricks on
people in her fathers old store.
"She likes to prank us more than anything," laughed Higginson.
But no ghosts will stop the unique country store from
operating. It's a staple in the town the people are proud of.
There are some other unique and strange things in the area. A plaque marks the spot where Betty the
elephant died while on a walking tour around the country. At the time, she was something most people hadn't seen
before. She was shot in 1826 when a crowd got out of hand on the
bridge that spans the Chepachet river. May 25th is known as 'Elephant Day' in Chepachet in honor of Betty.
Be sure to tune in February 27th at 5 to see where John DeLuca is headed.
(C) WLNE-TV 2014