Zipcar seeking more parking spaces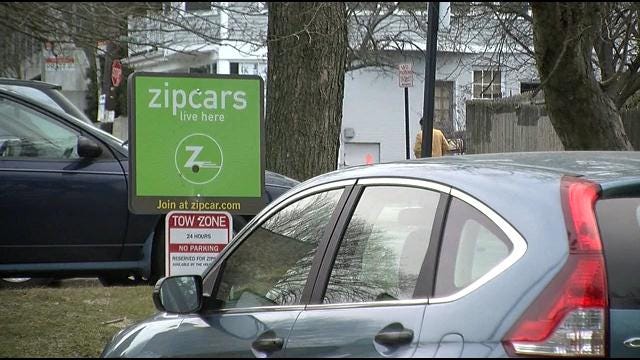 By Dana Griffin
@danaRgriffin
PROVIDENCE, RI- Zipcar, the car–sharing system which allows you to rent cars by the hour or for the day doesn't allow you to share its reserved parking spots.
The company is proposing the city of Providence extend its contract and provide 13 parking spaces in exchange for free membership for 40 city employees.
Georgia Wattendorf-Guiney works in Providence. She said, "If the Zipcar company has the benefit of using that open space, that somehow, the company provides income or source to the state, and the state should then turn that income around and benefit those that are more disenfranchised."
Zipcar has an existing 2011 contract. The company has 70 cars in 35 different locations that they claim serves thousands in Providence.
There are already Zipcar locations at Brown University, RISD and North Main Street.
These new spots will likely be in the downtown area.
"It's not a good idea because Providence doesn't have enough downtown parking as it is," said Stephen Pailin.
A Zipcar spokesperson says this trade is not about an exchange for free membership, but to make car sharing more convenient for people without cars.
"I don't really look at it as it taking my spot. If they want to move forward and make more spots for Zipcars, the smaller vehicles, then I think that's great. Parking's always going to be a headache downtown," said Alex Natale.
The Providence city council will continue discussion on the Zipcar spaces next Monday. If approved, the contract would extend to 2017.
Zipcar has made this similar agreement with cities like Los Angeles, D.C., Seattle, and Portland.
©2014 ABC6/WLNE-TV. All Rights Reserved.